Decorative Iron cloche in three sizes.
Decorative Iron cloche in three sizes.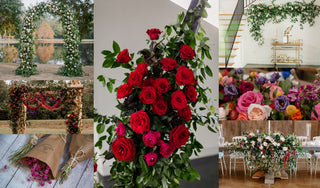 "Absolutely gorgeous flowers! She is so knowledgeable and has an AMAZING Vision when it comes to designing your floral arrangements. Highly recommend for all your floral needs!"
– Lydia Springer

"Alisa is so sweet and so easy to work with. Her arrangements were gorgeous and the perfect blend of all the ideas I had. Would definitely use her again or recommend her to anyone who is looking."
– Sarah Martins

"I am so, so happy that Alisa was able to do our flowers for our wedding! Alisa was WONDERFUL to work with! She is such a fun and friendly person. I have always been interested in the Victorian Language of Flowers and Alisa was able to create a beautiful bouquet that had all the right colors AND the perfect symbolic meanings! On the day of the wedding, she arrived very early to start setting up. Everything turned out just so lovely!! I'm so happy that we were able to work with Alisa."
– Brittany Austin Godwin

"Alisa at Bride & Bloom was absolutely amazing. She is such a sweetheart and worked with us on our budget while still making sure we didn't settle on the things we really wanted, and everything turned out perfect. I wish I could have kept my bouquet forever. I would absolutely recommend to any bride!"
– Candice Duhon

"My flowers were amazing i wanted my flowers to look like wild flowers and alisa captured my vision perfectly…. the flowers are so beautiful.. Thank you so much."
– Shilo Mcadams